opyright   2004-2013 Audio Xplosion Entertainment - CT DJ   l   218 Maple Tree Hill Rd, Oxford, CT.  06478   l   Phone 1-855-428-3235  l   All Rights Reserved

AUDIO EXPLOSION ENTERTAINMENT

Audio Xplosion Entertainment is a Connecticut Dj Company with more than 12 years of experience, research and development.  What do we mean by this?  We mean that when you are looking to hire a DJ you're not only looking for someone who can play your "tunes", but someone who has learned to become a master of ceremonies and a true coordinator of events.

We don't just throw a party or play music,  we create the party by using the knowledge we gained by  working with and observing some of the largest DJ companies in the Tri-state area.  From this experience, we took from them, all of the pros and con's and created the ultimate entertainment Dj Company.

It is our desire to meet your wedding needs where other dj's can't.

It is our desire to meet your Bat Mitzvah needs when other dj's won't.

It is our desire to meet your Graduation Party needs where other dj's lack.

It is our desire to host your school dances in ways that challenge the competition!

It is our desire to make your event the talk of the town!!!

What does Audio Xplosion Entertainment have that other Dj's don't?  It is a commitment to making your event the best (Unless, of course, you hire us again, in that case it could only get better).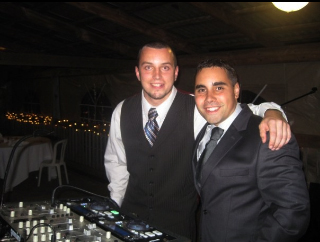 About Audio Xplosion Entertainment

We have always enjoyed telling a story with a picture.  You know the saying, "A picture is worth 1,000 words".  Well with Audio Xplosion Entertainment, a picture is worth everything.

Actually, what we mean by this is, you, as the customer pay money to hire a DJ.  We know that's not always an easy decision to make, and most of the time, you never know what you're paying for until the event is done.

Well, for this reason, we believe a picture is a valuable way to showcase our work.  That way, we can at least give you a small taste at what you're getting into.  (You never want to enter a party unprepared, so you DEFINATELY don't want to THROW a party without hiring the right DJ).

Okay……so now that that's out of the way:  Who is Audio Xplosion Entertainment?

So what makes Audio Xplosion Entertainment different from the rest of the Dj companies out there?

It is our desire to give an unforgettable performance to the client without nickeling and dimeing them. Yes we do have platforms for how to charge for various types of events, but where  other companies say, "for this price this is what you get! and if you add extras we will charge."  We are quite the opposite.

See, my DJs and I work very well as a team.  We enjoy offering as many tools and options as we can to make your event as graceful and exciting as possible.  What do I mean by this?  As we approach closer to the event, whether it is a wedding,  corporate function or school dance, we will go the extra mile.  As we divulge into the imagination of the client, the creator of the event, we learn that maybe a splash of color here or an extra speaker there, or maybe even another microphone needs to be added. 

To us, it's all about you, and thanking you for being our client.  We are happy to take the extra steps without the extra cost to  make your dream a reality.

Audio Xplosion Entertainment is also well known within our community for giving back. We have been featured in the major newspapers for our participation in fundraisers and benefits. We have donated our time to The Cystic Fibrosis foundation, The Special Olympics, Hurricane Katrina, the school for women, a number of boys and girls clubs across CT and much more.  We are happy to give back to these benefits time and time again, and our clients know they can count on us to be there for them.

Some of the major places that we've work at are.

House DJ for St Clements Castle, Portland

Villa Bianca, Seymore

Aqua Turf, Southington

Ethan Allen Inn, Danbury

Crown Plaza, Southbury

Heritage Hotel, Southbury

Avon Old Farms, Avon

Hartford Marriott, Hartford

Villa Rosa, Waterbury

Ponte Club, Waterbury

And much more . . . . .

So What Makes Audio Xplosion Entertainment Different?